Lamett | RIGID LUXURY VINIY TILE
Lamett  is a 100% waterproof rigid vinyl floor and as such perfect for the installation in all rooms including wet areas such as kitchen and bathroom. Moreover this new generation vinyl floors can even be installed in rooms with direct sunlight and veranda's. An effortless installation can be guaranteed thanks to a performant Drop Lock click system. The floor is sustainable, wear resistant and easy to maintain. Lamett Vinyl is eco-friendly and meets the strict European requirements.
Lamett – RIGID LVT
With our continuous development. Today, we offer Rigid (LVT) under the Lamett brand. The strength of the LVT is very resistant to deflection, bending and also the impact of various objects. Lamett can be adapted to the environment such as heat, humidity, and the cause of the damage to the wood floor, swelling of the joints with inexpensive price and excellent service from us, easy to install Lamett to your home or office, under a reasonable budget.
Why Rigid (LVT) is high strength
This is because Rigid does not contain plasticizers (which make materials such as PVC flexible) but contain more than 50% of Limestone. Thus, Rigid LVT is stronger than LVT in the general market.
Resistant to pressure very well
You may have a problem with LVT that is not strong enough and a damage appears easily when pressed, such as footprints caused by high heels or pressure on the legs of the cabinet when placed for a long time, etc. But these problems will go away when you switch to the Rigid LVT. Designed specifically to eliminate these problems, you can be assured that you will have a beautiful and lasting living space. Do not change often anymore.
Lamett RIGID LVT Plasticiser Free 100%
Lamett | SPECIAL PREMIUM CLICK VINYL
Installation Lamett Click Vinyl
Easy Installations and decorate
LVT is easy to install by yourself because the Rigid LVT has a different lock design from the old one which insert the lock sheet by sheet. The Angle Loc lock is a tight lock system, which is a better design that make the installation stronger, quickly and easily. In addition, you can make beautiful trimming of your needs easily with just a general knife on your own.
Product Specification
| | |
| --- | --- |
|  Dimensions : |  176 x 1213 x 4 mm + EVA 1.0 mm (WL 0.55)mm |
|  Surface : |  U Embossed, Natural Embossed |
|  Installation : |  Tight lock click system |
|  Bevel : |  4-V Colored Micro Bevel |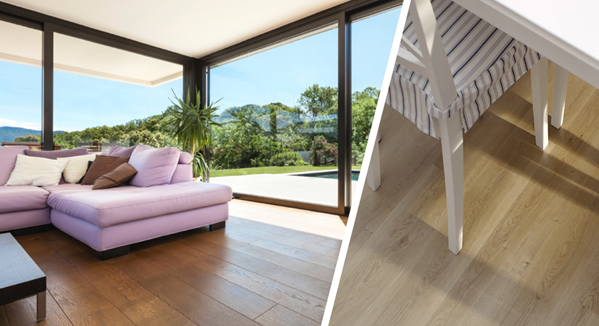 Stable to Heat, Sunlight and Water
Θ Perfect for every room of your home, even sunrooms !
Θ Large area installation – up to 4000 ft2 /400 m2 without any transitions
Θ No acclimation required
Θ Highly impact and identation resistant
Θ Pet friendly – durable & easy-to-clean
Θ 3rd party certified ( Greenguard Gold / VCO A+ / Reach / DIBT / Prop 65 )
Θ Option of 100% plasticizer – free product
High-density Limestone-based core
Θ Rigid core – no telegraphing of small subfloor imperfections
Θ Minimum subfloor preparations
Θ Easy – to – install click system